Simoji by Simone Biles
Platform: iPhone & iPad
Author: AppMoji, Inc.
Category: Sports
Version: 1.1
Downloads: 658
---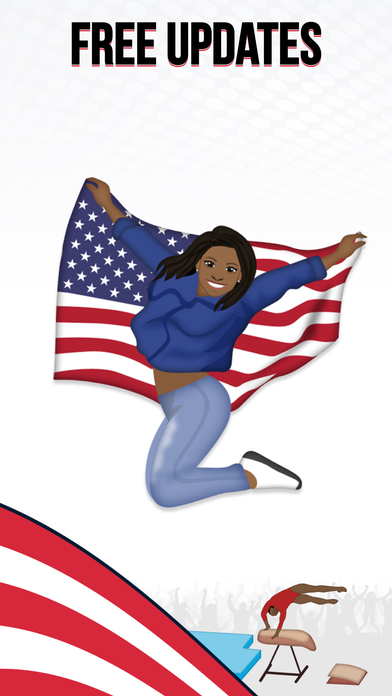 ---
App description:
Presenting the official Simoji app by World Champion gymnast Simone Biles. Access dozens of emojis personally curated by Simone and bring your conversations to life. 

Features Include: 
-Customize the size emojis send at
-Brilliant high-definition resolution optimized for iMessage 
-Send from keyboard (iOS8 or higher) or directly from app 

Emojis are compatible across devices so the receiver doesn't need to have the app installed (or even an iPhone) to see them. 

Press inquiries and all other questions please email contact@moji.co 

HOW TO INSTALL MESSAGES APP / KEYBOARD (iOS 10 and above only): 
-Open any iMessage 
-Tap App Store button (right of camera) 
-Tap App Store drawer (lower left) 
-Tap Store 
-Tap Manage 
-Switch 'Simoji by Simone Biles' to On
*Simoji can now be accessed directly from the App Store button
*stickers can now be sent without copy and paste 
*tap + hold sticker and drag onto chat bubble to stick anywhere in iMessage  


A NOTE ABOUT ALL ACCESS: We take our user's privacy very seriously. Simoji will NEVER collect any personal information or transmit anything you type over any network. Turning on "Allow Full Access" is simply an iOS requirement for third party keyboards. You can choose to not install the keyboard and still use all the content directly from the app as well. 


Copyright 2017  © AppMoji Inc. •  All Rights Reserved
TAG: app, iPhone & iPad,Sports
---
Similar Apps
---
More from developer
---