Animal Rescue Book
Platform: iPhone & iPad
Author: PatrickGeorge Limited
Category: Book
Version: 1.3
Downloads: 16
---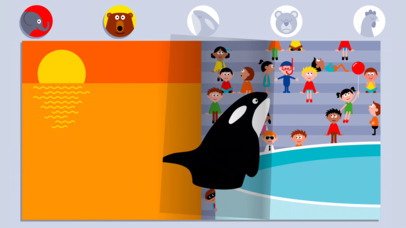 ---
App description:
The animals need your help! Scroll across to tap any animal button or turn the page to navigate and then swipe the magic transparent page to rescue it!

Then watch the animals come to life in this cheerful and brightly-coloured book app! Real-life happy animal sounds.

No words, so it works in all languages!

Rescue the animals and reunite them with their family, friends and habitat. Fourteen different animals to rescue at the swipe of a finger!

An elephant is unhappy in the circus and wants to go back to its mother. A turtle is trapped in a net but wants to lay its eggs on the shore. Some pigs are trapped in a truck but want to go back to their field. Simply turn the page to rescue the animals! Read it like a book or press the animal button to take you to your favourite page. Watch the buttons light up as you rescue an animal and collect them all to start over.

This is a bright, colourful and simple animal rescue app with no words, no language barriers. Easy to navigate, giving the child a sense of empowerment and control as they rescue each animal. Clear repetition and real life sound effects and engaging animation reinforce an environmental message and teach young children about respect, natural bonding, friendships and how to connect with nature.


Kids will love to rescue the animals!


Features:
- Realistic page-turn functionality to rescue the animals
- Interactive buttons to navigate to each animal
- Animated animals
- Real-life animal noises and ambient environmental soundscapes
- Educational
- Details on every page which will reward you with every game play
- Clear repetition to reinforce the message
- No words – no language barriers
TAG: app, iPhone & iPad,Book
---
Similar Apps
---
More from developer
---