Hidden Runaway
Platform: iPhone & iPad
Author: Numeric Pipeline
Category: Games
Version: 1.2
Downloads: 1726
---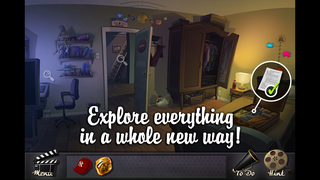 ---
App description:
Play once again as the two mythics heroes of the Runaway series !
For the 10th anniversary of the mythic, million-selling PC adventure game Runaway: a Road Adventure, Pendulo Studios, in association with Numeric Pipeline, proudly presents Hidden Runaway, a brand-new episode starring Brian and Gina.

Our two heroes no longer live together -- in fact, they hate each other… but they have to tell the story of their first adventure, from the very first time they met, to a producer who wants to make a Hollywood blockbuster out of it.

Will Gina and Brian realize they still have feelings for each other while reliving their first encounter? Find out in this original hidden object game that mixes hidden object searches, casual puzzles adapted and simplified from their point n' click predecessor with special mini-games and narrative cut-scenes! Fans of the PC series and newcomers alike will love discovering this adventure, full of endearing characters, funny movie references and delectable dialogue.


You're nowhere near stopping Runaway!
Rediscover or enjoy for the first time the Runaway adventure, starring one of the world's most famous video game couples!

- Four chapters mix well-known scenes from Runaway: a Road Adventure with brand-new environments
- Dozens of mini games that will have you racking your brain for hours
- Useful and well-designed help for players, via a hotspot marker and hints.
- Rich and colorful graphics in the vein of Pendulo Studios
- A storyline full of discrete references and tributes to movies, series, games, music and novels.
- A huge replayable value as items to find will change randomly in the hidden object scenes
- Included languages: English, French, German, Spanish, Italian.

-------------------------------
About Pendulo Studios
------------------------------
pendulo-studios.com
facebook.com/pendulostudios
twitter.com/pendulostudios

------------------------------
About Numeric Pipeline
------------------------------
http://numeric-pipeline.com
TAG: app, iPhone & iPad,Games
---
Similar Apps
---
More from developer
---