Countdown to an event, important occasion and day
Platform: iPhone & iPad
Author: Jack Wolcowitz
Category: Lifestyle
Version: 3.3
Downloads: 6K
---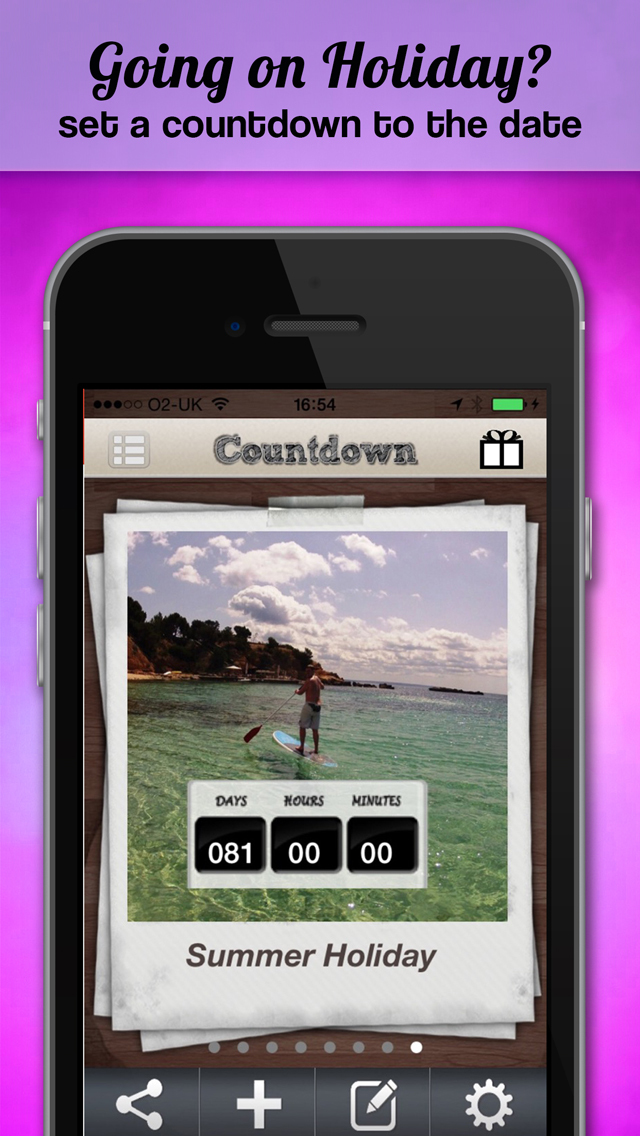 ---
App description:
***** 5 star average reviews "Big Like! Keeping memories and posting parties on Facebook in a very original and beautiful way! 

Countdown to your big day with polaroid pictures and invite your friends to the event via Facebook. Create multiple events FOR FREE (most apps have a limit) and pick one of our 30 FREE images taken by us! (most apps offer far less free images) 

Create your first event now and pick one of our stunning photos (we've given you 30 images FOR FREE!) to put in a polaroid frame and then either save it to your photo gallery, share on your Facebook wall and/or share on your friends' Facebook wall too. 

Have great fun counting down to your favourite events 

How does the 'Countdown to an event with Pictures' app work?
Open up your 'countdown to an event with pictures' app and create/add a new event. Give the event a title, for example 'my birthday' and select the date of the event to countdown to. Upload a picture by selecting an image from your phone's photo gallery or take a photo or use one of our 30 FREE images we've given you (all taken by us!). Create the event and watch the countdown to your big event. 


You can make your event more exciting by logging in to your Facebook and inviting your Facebook friends. We've also given you the option to add a comment to your event in a colour you decide. Create multiple events and flick through each of the events you have created or view them in a list. 

We really hope you enjoy our app and we'd welcome your feedback at www.swarmbuzz.co.uk

What you can do with the 'Countdown to an event with Pictures' app? 
•Create multiple events for FREE (most countdown apps have a limit) 
•Use your own pictures as an event background, take a picture or use one of our 30 FREE images (taken by us!) 
•Invite your Facebook friends to your event and post on yours and their Facebook wall 
•Share on Facebook, save to your photo gallery and/or email to friends 
•Add a comment to your photo in a colour of your choice 
•Edit/ Delete events 
•Drag the counter around the screen 
•Animated countdown when you view different events 
•View your events as a list or manually flick through events to view 

What you can use the 'Countdown to an event with Pictures' app for: 
We think it'd be fantastic to create an event for and invite friends to a: Birthday, wedding, anniversary, holiday, party, meeting, dinner party, vacation, reunion, quitting your job, travelling, new year, Christmas, celebration and exams. How about you think of an event to countdown to! 

Most importantly, 'countdown to an event with pictures' is supposed to be so you have fun. We haven't limited events or given you 2 images to use, that wouldn't be as helpful to you. We will make improvements and if you'd like to suggest one then let us know. 

www.swarmbuzz.co.uk
@SWARM_Marketing

Hope you have loads of fun counting down to your big day!

7bd58be00b
TAG: app, iPhone & iPad,Lifestyle
---
Similar Apps
---
More from developer
---