SHERLOCK: Interactive Adventure
Platform: iPhone & iPad
Author: Haab, LLC
Category: Book
Version: 1.6
Downloads: 7K
---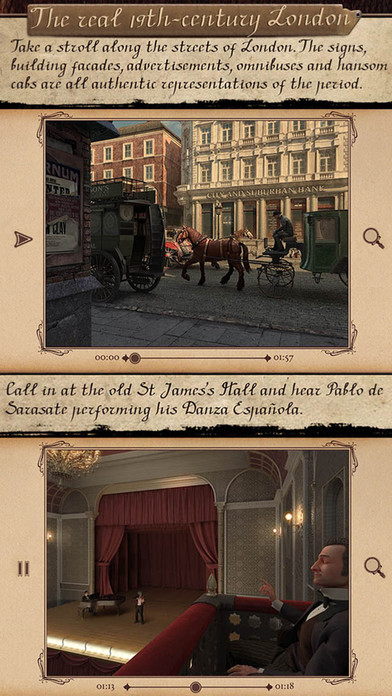 ---
App description:
* Gold winner of "Independent Publisher Book Awards" 2014 and "Global Ebook Awards 2014" *
* Nominated for Digital Book Awards 2015 *
‧‧‧‧‧‧‧‧‧‧‧‧‧‧‧‧‧‧‧‧‧‧‧
AppAdvice.com: "Sherlock: Interactive Adventure is unlike anything else you've seen on iOS, or perhaps on any digital platform for that matter".
148apps.com: "SHERLOCK: Interactive Adventure is first and foremost a well told story, but those interactive elements ensure it sticks in the mind a lot more so than a regular e-book".
Wouter van Vugt, AppPicker.com: "SHERLOCK: Interactive Adventure is so much more than a book, even though you can treat it like a book if you want to. Everything about this book is perfect, and the extra options and interactivity are so well-developed, that it didn't feel like I was reading a book anymore. It truly is the next level of reading and where I expect all the books to be in the future".
‧‧‧‧‧‧‧‧‧‧‧‧‧‧‧‧‧‧‧‧‧‧‧
SHERLOCK: Interactive Adventure is an app that will make you look at interactive books in a whole new light.

Allow us to introduce you to "The Red-Headed League", the first book in this brand new interactive series about the famous detective.
Read, listen, embark on a journey, conduct an investigation, and discover the world of the great detective Sherlock Holmes for yourself. There is more to this story than just words and pictures. In place of simple illustrations, 3D animated images adorn its pages. You are no longer looking on from the outside: you are directly involved in the events taking place, and see the world through the eyes of Dr Watson.
Can you remember your favourite book? What was it that you loved so much about it? It might have been the gripping plot, the amazing characters, the incredible atmosphere... When we read a book, we picture everything taking place in colourful images. Sometimes illustrations help to get our imagination going. We enjoy looking at them, but sometimes this is simply not enough. After all, an illustration in a book is no more than a keyhole that we can peek through in order to catch a glimpse of the imaginary world created by the author.
But have you ever wanted to look further through the keyhole and open that secret door? We bet you have... wouldn't it be interesting to find yourself standing right next to your favourite character, and to be able to explore their world? To touch all the objects in the room, and have a good look at them?
When we created SHERLOCK: Interactive Adventure, we threw open the doors to the world of Victorian England, and we are delighted to be able to invite you in with us. We have lovingly recreated the interiors and street scenes of nineteenth-century London.
We have created the perfect combination of a classic book, an audio book, a film, a historical study, and an illustrated encyclopaedia, incorporating elements of gameplay.
‧‧‧‧‧‧‧‧‧‧‧‧‧‧‧‧‧‧‧‧‧‧‧
This interactive book has been created exclusively for the App Store
‧‧‧‧‧‧‧‧‧‧‧‧‧‧‧‧‧‧‧‧‧‧‧
Special features:
• the authentic, original text
• an audio version read by Simon Vance
• 30 plot-based scenes packed full of 3D animation
• a collection of period articles containing descriptive text
• dossiers on the key characters
• a search mode to help you find articles and clues
• an interactive map of 19th-century London
• 20 original musical themes
• supports the very latest iOS functions

• Available languages: English, German, French, Spanish, Russian
• It is recommended that you use a Wi-Fi connection to download the app
• NOTE: Requires iOS 6.1 or later. Compatible with iPad 2 and later; iPhone 4s and later; iPod touch (5th generation)

‧‧‧‧‧‧‧‧‧‧‧‧‧‧‧‧‧‧‧‧‧‧‧
Would you like to support the project and see more titles in the series released? Please write to us at support@baah.us
TAG: app, iPhone & iPad,Book
---
Similar Apps
---
More from developer
---